Safeguard Armor Solutions
Safeguard Armor Solutions concentrates on the development and manufacturing of armor and armor systems. If your application is for a vehicle or the construction industry they can either custom design something or use an off the shelf solution to fill your needs. Safeguard Armor has tested at premier test ranges around the nation in collaboration with the U.S. Army. This results in bringing a state of the art armor solution that can meet or exceed any specification you desire. The goal of Safeguard Armor Solutions is, and always has been to ensure the safety of our customers. The focus has traditionally been military, however there is a growing private sector need, specifically for public figures, resulting from terror attacks around the world. These now range from flying airplanes into buildings, to pressure cooker attacks, and even automatic weapons fire into concert halls. We understand that no two installations are the same, and can meet any design challenge you may face. Just contact us, and we will work with you to ensure the highest level of protection possible.
US Owned & Operated Small Business
Full Service Manufacture

Specializing in Ballistic, Blast, I.E.D. Blast mitigation and Intrusion Protection for commercial, security and automotive applications.
Transparent, Armor plate, Composite, Ceramic and Component parts.
Teaming, Operational, Development and Manufacturing environment.
Armament of Commercial and Custom vehicles.
OEM Supplier of Armor Solutions.
Employ Government Approved Independent Testing labs for validation.
Continuous Research and Development
Responsive to changing needs of our Customer.
Expeditious turn around of Production and Prototype, capability is keyed by strategic alliances.
Products that have proven themselves in the field.
100,000 Sq. Ft. Facility Located In Carrollton, TX.
Alliances Include:
USG approved testing center
Automotive Design and Fabrication
World Wide Distribution Network
Armor Solutions
Safeguard Armor designs, manufactures, and integrates force protection products.
In House Capabilities include
Production fabrication and assembly of Glass, Steel, Composite and Ceramics
Assembly

Frame up vehicle designs
Up Armor of OEM platforms
Armor Systems

R&D, Qualification and Testing Services
Design and Engineering Services
Manufacturer of vehicles and products for the Global War on Terror (GWOT)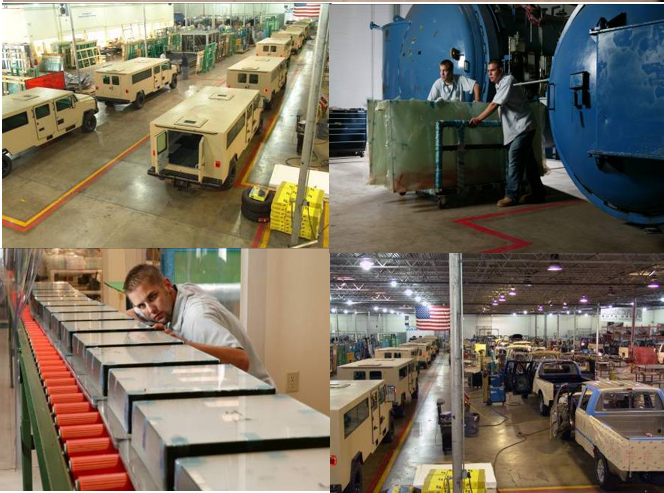 What Is The Actual Threat?
The 155 mm HE-ER (High Explosive – Extended Range) Base – Bleed Projectile. Fragments Come From Devices Like These

Description
The 155 mm HE-ER (High Explosive – Extended Range) base- bleed projectile is operated primarily for blast and fragmentation against infantry troops and soft material targets.
This projectile can be fired from 39, 45, 52 – caliber 155 mm artillery guns using all types of propelling charges. The increased range is achieved by using a low-drag aerodynamic shape coupled with base bleed technology. The projectile contains 12 kilograms of TNT in a thin walled, high strength and high fragmentation steel alloy body.
It has a deep cavity fuse design that accepts Point Detonating (PD) or proximity (VT) fuses.
Functioning
An aluminum liner in the deep fuse cavity contains a supplementary TNT charge. When proximity fuse is fitted, the supplementary charge is removed.
When a PD fuse is used, it detonates the supplementary charge upon impact, which in turn detonates the projectile filler.
When a proximity fuse is used, detonation occurs when the projectile approaches the target (proximity action). The proximity fuse contains its own booster  element to detonate the projectile filler.
Current Testing
Using Secur*Stop Material with or without steel front plates and/or rear plates which simulate integration into current armor vehicles as an I.E.D. defeat mechanism, a Security Blast Wall, 4 car doors, 2 with Secur*Stop material inside and 2 types of rims, one with Secur*Tire material.
The Results Are As Follows:
There were a total of 104 fragment impacts on the Secur*Stop panels, averaging 4.5 hits per panel with a maximum of 10 fragments in any single 24"x24"x24" panel.
Secur*Stop panels were 24"x24" and ranged from 1" to 3" in thickness.
The blast wall was fully penetrated with one hit which was made from ballistic steel and blast material. Secur*Stop material was not present.
One half of the wall was sprayed with a current military blast mitigation material and it appears that the material offers little added protection.
The product failed without Secur*Stop even at 35'
The glass in the wall was perforated using standard ballistic glass.
The dual door assembly utilizing standard blast material without Secur*Stop was penetrated.
The ballistic rim and tire (A.K.A. Secur*Tire) was hit with 10 fragments without loss of function.
Up to 3/8" AR500 steel alone, without Secur*Stop did show penetrations of fragments.
Summary:
All samples and assemblies utilizing Secur*Stop passed without exception. Samples as close as 5' from epicenter passed fully.
No tire failure from the Secur*Tire product. Vehicle would have been able to evacuate the hot zone.
All tests of Secur*Stop passed even up to 5' from the blast.
Standard armor used today failed and is inadequate against IED threats
This included RHA, AR500, spray on blast protection (USN)
All Secur*Stop and Secur*Tire products demonstrated excellent results.
The use of Secur*Stop would result in a walk away incident from onboard vehicle troops protected with this material, whereas other current Armor materials could have led to serious if not fatal injuries.
Results:
All Secur*Stop materials passed.